Shavuot Menu
---
Network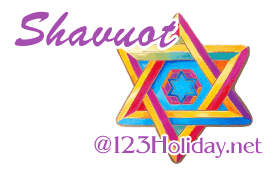 Shavuot Recipes
Cheesecake Squares
1 1/3 cups graham cracker crumbs 325mL
1/3 cup melted butter 75mL
1 pound creamed cottage cheese, bulk pack 500g
1 tablespoon milk 15mL
2 eggs 2
1 teaspoon vanilla 5mL
1/2 cup granulated sugar 125mL
Topping:
1 cup sour cream 250mL
2 tablespoons granulated sugar 30mL
1 teaspoon vanilla
Preheat oven to 350 °F (180 °C). Mix crumbs and butter together and pack into 8" (20cm) square pan. Cream the cheese with the milk. Add eggs, vanilla and sugar. Whip until smooth. (Work quickly). Pour over base. Bake for 15 minutes. Cool. Preheat oven to 425 °F (220 °C). Mix sour cream, sugar and vanilla. Spread on top and bake for 5 minutes. Cut into squares with a wet knife.
---
---
Chocolate Marble Cheesecake

Base:
1 3/4 cups crushed graham wafer crumbs 425 mL
1/4 cup finely ground walnuts 60 mL
1/4 cup granulated sugar 60mL
1/2 cup melted butter 125mL
Combine ingredients and blend. Grease sides of 9" - 10" (22.5 - 25 cm) springform pan. Press crumbs on bottom and up sides of pan to top. Reserve about three tablespoons (45mL) of crumbs for topping.

Filling:
2 pounds cream cheese 900g
2 teaspoons vanilla 10mL
1 1/2 cups granulated sugar 375mL
6 eggs
2 cups light cream (half and half) 500mL
2 squares unsweetened chocolate, melted and cooled
Preheat oven to 450 °F (230 °C). Beat cream cheese and vanilla together until fluffy. Gradually beat in sugar. Add eggs one at a time stirring until just blended. Stir in half and half. Gradually stir 3 cups (750 mL) of batter into cooled melted chocolate and blend. Pour plain batter into prepared pan. Gradually add chocolate mixture using zigzag motion. Batter will be very loose. Top with reserved crumbs. Bake 15 minutes to set batter. Reduce heat to 300 °F (150 °C) and bake 70 minutes longer. Remove from oven. Cool on rack one hour. Chill. Can be frozen. Serves 16.



Search the web: